Paint the Towns with Tulips for Parkinson's Awareness Month
ST.PETE BEACH, FLORIDA: As millions of people around the world prepare to recognize April as Parkinson's Awareness Month, St. Pete Beach local artist Ron Czerniec has taken the disease into his own hands. Czerniec is kicking off a national fund raising campaign "Paint the Towns with Tulips" designed to raise awareness and donations of Parkinson's as he lines the streets of America with painted tulip banners. The campaign will run throughout the month of April and is targeted to citizens and businesses across the U.S. The goal of the campaign is to generate a minimum of $250,000 in financial donations for Parkinson's research by selling banners depicting a custom illustration of red tulips designed by Dayna Elefant. The Tulip is the official flower for Parkinson's disease.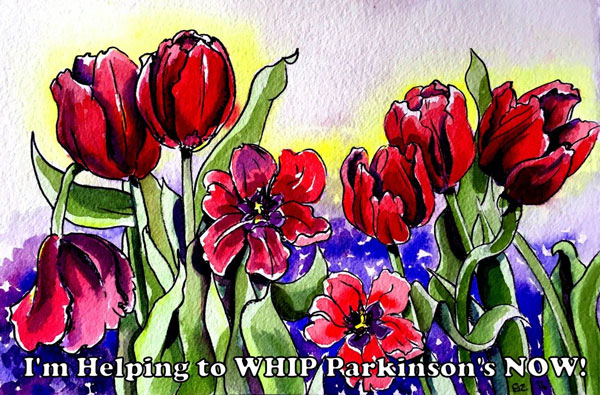 Czerniec, a former Senior Director of Finance for USA Today, was diagnosed with Parkinson's disease in 2006. The degenerative nature of the disease forced him to leave his position in 2008 and later move to St. Pete Beach in pursuit of a warmer climate for his health. Committed to helping find a cure for the disease, Czerniec has supported Parkinson's research by participating in a three-year gene therapy study, by being a strong advocate and regular volunteer, and by working to get individuals and corporations involved in finding a cure.
"Every nine minutes another person is diagnosed with Parkinson's, which is more than the combined number of people diagnosed with multiple sclerosis, muscular dystrophy and Lou Gehrig's disease combined," according to Czerniec. "I know what it was like to raise a family while working as an executive in corporate America and to be too busy. I am doing this to remind people everywhere there is no known cause for the disease, no conclusive test and no cure. And the sad part is that everyday people who have Parkinson's are leaving their doctor's office misdiagnosed without the proper care. Parkinson's has afflicted me and in a few minutes it will be someone else. I am doing what I can to make sure no one has to walk a mile in my shoes and deal with this hideous disease. I am asking them to take a few minutes out of their busy lives to help move this disease closer to a cure."
Czerniec has passionately pursued outreach, education and advocacy for Parkinson's for the past several years. His upcoming book, "A Life Interrupted - Invaluable Lessons Learned in my Dance with Parkinson's," details his own journey with Parkinson's and offers help and hope for others living with the same or other chronic, "life-interrupting" conditions. Czerniec explains, "I call Parkinson's a perfect marriage; it never quits, is always there for you and increases its devotedness to you over time. Like a perfect marriage, there are good times, bad times, hope, sadness, happiness, emotional times and real learnings, but it will always be there for you."
Parkinson's disease is a chronic, degenerative neurological disorder that affects one in 100 people over age 60:
Nearly one million Americans are living with Parkinson's.
Approximately 60,000 Americans are diagnosed with Parkinson's disease each year, and this number does not reflect the thousands of cases that go undetected.
Seven to 10 million people worldwide are estimated to be living with Parkinson's disease.
Incidence of Parkinson's increases with age but affects four percent of people before the age 50 and is 1.5 times more likely to afflict men.
The red tulip banners were designed and painted by award winning artist Dayna Elefant. The banners sell for $250 and can be purchased by contacting organizers at the Facebook page for Paint the town with Tulips: https://www.facebook.com/Paint-the-Towns-with-Tulips-249733822035454/. All net proceeds will be donated to the Michael J. Fox Organization for further research.